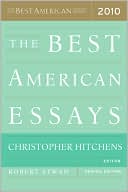 "Sweetgrass," an essay by Phyllis Barber in
upstreet
number five
, has been listed as a Notable work by the editors of
Best American Essays 2010,
edited by Christopher Hitchens. This is the fourth time a work appearing in
upstreet
has been mentioned in one of the prestigious annual
Best American
anthologies. The previous ones were Frank Tempone's essay, "Everlasting," in
Best American Nonrequired Reading 2009,
and the essays "Vocabulary Lesson," by Katherine Lien Chariott, and "Hermes Goes to College," by Michael Martone, in
Best American Essays 2009
—all from the award-winning issue,
upstreet
number four
.

Phyllis Barber's seventh book, Raw Edges (U. of Nevada), a coming-of-age-in-middle-age memoir, came out earlier this year. She is the author of the novel And the Desert Shall Blossom (U. of Utah), two books of short stories, The School of Love (U. of Utah) and Parting the Veil: Stories From a Mormon Imagination (Signature Books), and How I Got Cultured: A Nevada Memoir (U. of Georgia), for which she received the AWP Award Series prize in Creative Nonfiction in 1991. Phyllis has been on the prose faculty of the Vermont College of Fine Arts, and was recently inducted into the Nevada Writers' Hall of Fame. She lives in Denver.
We congratulate Phyllis, and thank her for helping to make upstreet Notable.