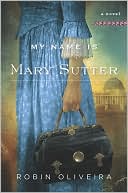 My Name is Mary Sutter,
a novel by
upstreet
Fiction Editor Robin Oliveira, was released by Viking Penguin on May 15. Set in the mid-19th century, Robin's novel follows the aspirations and difficulties of a brilliant, somewhat odd, yet remarkable young midwife from Albany, NY, whose lofty hope of becoming a surgeon far exceeds what her family and the physicians and medical schools of her time are willing to accept. She travels to Washington, DC, to work in the Civil War hospitals, only to find the challenges formidable and the pull of home unavoidable.
"A magnificent Civil War epic, a saga of female liberation, and a gorgeous love story. Mary is indomitable, fearless, and captivating—a riveting read."—Douglas Glover, author of
Elle
"
My Name is Mary Sutter
is a powerful debut—equally compelling for its portrayal of the horrors of surgery during the Civil War as it is for its human drama. Mary Sutter is unforgettable, not just because she's quirky, odd, and persistent in her quest to be a surgeon, but also because she is alive inside anyone who knows what it is to dream.—Xu Xi, author of
Habit of a Foreign Sky
"The subject matter—medicine and medical conditions during the Civil War—is thoroughly researched and compelling. The plot—the Union's conduct of the war, intertwined with the wartime love story—moves quickly and inevitably. But, most important, the protagonist, Mary Sutter, takes hold of the readers on the first page and leads us, with confidence and determination, to the last."—Vivian Dorsel, Editor/Publisher of
upstreet

In 2007, Robin won the $10,000 15th annual James Jones First Novel Fellowship, awarded to an American author of a first-novel-in-progress by the James Jones Literary Society and Wilkes University, Wilkes-Barre, PA. Born in Albany, NY, in 1954, she earned a BA in Russian from the University of Montana and continued to study at the Pushkin Language Institute in Moscow, USSR. She became a Registered Nurse, and then worked as a bone marrow transplant and cardiac care nurse in Seattle before earning an MFA in writing from Vermont College of Fine Arts in 2006. She has been Fiction Editor for
upstreet
number three, four, five,
and the upcoming
six,
which will appear in June of this year. Robin lives in Seattle with her husband, Andrew Oliveira, their daughter, Noelle, and their son, Miles.
Robin is represented by agent Marly Rusoff of Marly Rusoff & Associates (NA). For details of Robin's book tour, go
here
.