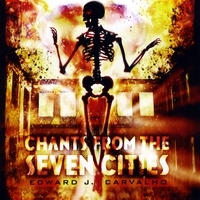 upstreet
number one
poet Edward J. Carvalho ("God Was Like an Endless Night") has released his first audiobook,
Chants from the Seven Cities
(Guerrilla Ignition, 2009), available in CD and MP3 from
CDBaby.com
and Amazon.com. The 17-track playlist was selected from Carvalho's full-length poetry collection,
solitary, poor, nasty, brutish and short
(Fine Tooth Press, 2007), and new, previously unpublished work. The audiobook was recorded in a two-hour marathon session by producer, publisher and
upstreet
number one
poet Synnika Lofton ("A Revolutionary Mood") in Norfolk, VA. The cover artwork is by Jason Beam.
Edward J. Carvalho holds an MFA from Goddard College. He is a PhD candidate in the Literature and Criticism program at Indiana University of Pennsylvania, where he is a teaching associate in the English Department and received the 20th and 21st Annual IUP Doctoral Fellowships (2006, 2008). His work, twice nominated for a Pushcart Prize, has appeared in
Quay, Walt Whitman Quarterly Review,
and other journals. He was guest editor of David B. Downing's
Works and Days
journal on "Academic Freedom and Intellectual Activism in the Post-9/11 University" (Fall/Spring 2009), which features his interviews with Noam Chomsky, Martin Espada, and Cornel West, and was discussed on
Stanley Fish's
New York Times
blog.
His collection,
"If the Radiance of a Thousand Suns": Songs of the American Hiroshima,
is forthcoming from Six Bad Apples Press (2009).