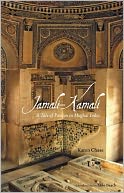 Jamali-Kamali: A Tale of Passion in Mughal India
(Mapin, 2011), by
upstreet
author Karen Chase (
numbers one, two, three, four,
and
six
), is a book-length homoerotic poem that tells the story of Jamali and Kamali, two men who lived in 16th century Delhi. According to oral tradition, the men were lovers. Although they existed, the book is a fiction about love, sex, separation and death. The Introduction by Mughal scholar Milo Beach includes nine photographs of the Jamali-Kamali Mosque and Tomb in Delhi, where the two men are buried in white marble graves side by side in a small, exquisite tomb.
Karen Chase lives in The Berkshire Hills of Western Massachusetts. Her poems, stories and essays have appeared in many magazines, including
The Gettysburg Review, The New Yorker, The New Republic
and
Southwest Review.
Her book of poems,
Kazimierz Square
, was short-listed by Foreword Magazine as "Best Indie Poetry Book of 2000."
Land of Stone
, her nonfiction book about her work as Poet-in-Residence at a psychiatric hospital, was named a Best Book of 2007 by Chronogram and won a Bronze medal in the 2008 Independent Publisher Book Awards. About
Bear
, her second collection of poems, Harvard Review said, "Karen Chase's poems are buoyed by lightness and vitality, a joy in physical pleasures, and an imitable sense of humor."