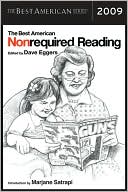 "Everlasting," an essay by Frank Tempone in
upstreet
number four
, has been listed as a Notable work by the editors of
Best American Nonrequired Reading
2009.

This is the first time a work appearing in
upstreet
has been mentioned in one of the prestigious annual
Best American
anthologies.
upstreet
number four
was the winner of the Bronze Medal in the Anthologies category of the Independent Publisher Book Awards. The editors of that issue nominated "Everlasting" for a 2008 Pushcart Prize and for Volume III of
The Best Creative Nonfiction.
Frank Tempone holds an MFA in Writing from Vermont College of Fine Arts. A fiction writer and essayist, he has been a secondary school teacher for fifteen years, and his work has appeared in
Another Chicago Magazine, McSweeney's Internet Tendency, 580 Split,
and
The Berkshire Review.
Another one of his personal narratives, "Born Again," appeared in
upstreet
number three,
whose editors nominated it for a 2007 Pushcart Prize and for Volume II of
The Best Creative Nonfiction.
The founder and former director of Word Street, the drop-in tutoring and writing center in Pittsfield, MA, he now lives in Chicago, IL.
We are very happy to congratulate Frank, who was Fiction Editor for
upstreet
number one,
and Prose Editor for
number two,
and conducted the author interview for both issues.